Budget Speech
Economic Performance 2010
11. In the wake of the downturn in 2009, the economy in 2010 staged a full recovery at a faster pace than expected. Thanks to the strong growth in the Mainland and Asia, the economy has surpassed the pre-tsunami level. For 2010 as a whole, GDP grew by 6.8 per cent in real terms.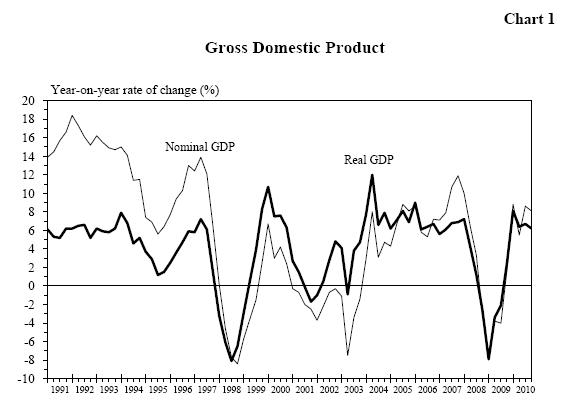 12. Underpinned by the reviving global trade flows, Hong Kong's exports of goods soared by 17.3 per cent in real terms for the year as a whole, quickly regaining the ground lost in the financial tsunami. As the employment market improved and income increased, private consumption expenditure registered a significant growth of 5.8 per cent in 2010. Benefiting from an upbeat business sentiment and the commencement of major infrastructure projects, the overall investment recorded a strong growth of 8.1 per cent last year.
13. With the upturn in the economy, the job market improved significantly in the past year. The improvement had also much to do with the great resilience and flexibility of our labour market, as well as the proven effectiveness of the Government's measures to counter the financial tsunami. The unemployment rate dropped from its peak in mid-2009 by 1.7 percentage points to 3.8 per cent recently. The improvement can be seen in most trades and across all skill levels, indicating that the grass roots have really benefited from the robust economic growth. Taking the full-time employees in the lowest tenth of income distribution as an example, their average monthly income in 2010 increased by five per cent over 2009. After adjustment for inflation, there was still an increase of about two per cent in real terms.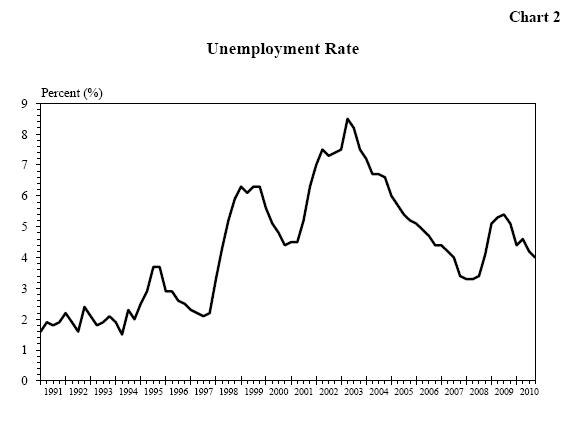 14. We expect the economy to see solid growth this year. As the unemployment rate has already fallen back to a relatively low level, there will be limited room for further significant decline. We also need to pay attention to the effect of the implementation of statutory minimum wage on the unemployment rate. The generally strong economic conditions should help us through this change.
15. Against a backdrop of a strong economic recovery, a soft US dollar and rising global food and commodity prices, inflationary pressure has gradually built up in Hong Kong this year. The average inflation rate for 2010 as measured by the Composite Consumer Price Index was 2.4 per cent. Netting out the effects of the Government's one-off relief measures, the underlying inflation rate was 1.7 per cent. Taking into account the rapid economic expansion of 6.8 per cent last year, inflation for the year was rather moderate. The significant improvement in productivity which continued throughout last year went some way towards alleviating the pressure of rising prices.