Estimates for 2014-15
151. Operating expenditure for 2014-15 is estimated to be $325 billion.  This is 4.1 per cent or $13.8 billion less than the revised estimate for 2013-14, mainly due to the reduction of one-off relief measures and one-off injections into funds for designated uses.  Recurrent expenditure accounts for $307.4 billion, or over 94 per cent of the 2014-15 operating expenditure, which is an increase of $22.3 billion or 7.8 per cent over the revised estimate for 2013-14.  This represents Government's continued commitment to improving people's livelihood.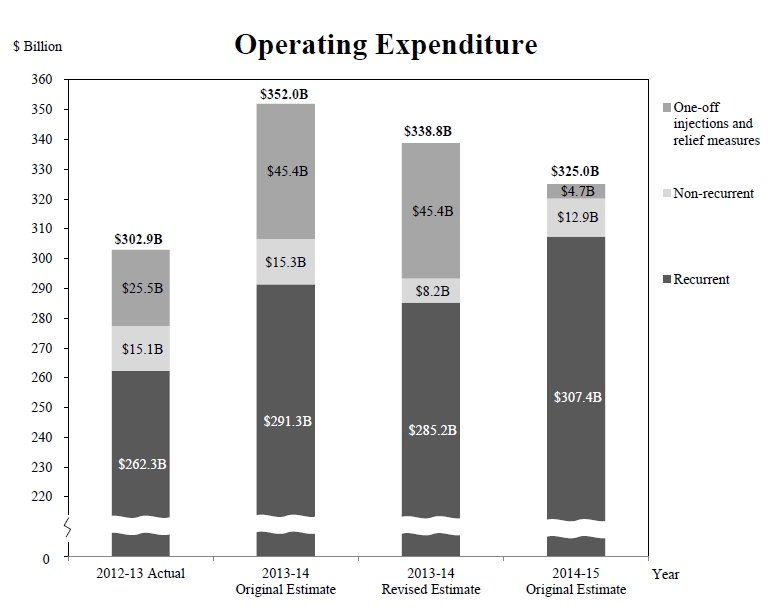 152. Of the recurrent expenditure for the next financial year, almost 60 per cent will be deployed to the three policy area groups of education, health and social welfare.  Recurrent expenditure on education will be $67.1 billion, an increase of 5.3 per cent over 2013-14.  Major new proposals include regularising three Community Care Fund programmes for under-privileged students, costing $529 million a year; and enhancing support for non-Chinese speaking students and those with special educational needs, costing about $400 million a year.  In addition, Government will earmark $436 million each year to increase the intake of senior-year undergraduate places in University Grants Committee-funded institutions by 1 000 places.  Another $965 million will be reserved for a new scheme to subsidise up to 1 000 students per cohort to pursue self-financing undergraduate programmes in selected disciplines to meet Hong Kong's manpower needs.  The scheme will benefit three cohorts of students.
153. Recurrent expenditure on medical and health services for 2014-15 will be $52.4 billion, 5.2 per cent higher than that for 2013-14.  Besides the major new initiatives mentioned earlier, Government will provide additional funding of nearly $600 million per year for increasing the annual voucher value under the Elderly Health Care Voucher Scheme to $2,000 per person.
154. Recurrent expenditure on welfare for 2014-15 will reach $56.9 billion, increasing by 9.7 per cent from that in 2013-14.  Besides the major new initiatives mentioned earlier, Government will enhance services for persons with disabilities, involving an additional expenditure of about $360 million per year.  Government will pursue the extension of the Public Transport Fare Concession Scheme for the Elderly and Eligible Persons with Disabilities to eligible children with disabilities under the age of 12, and the phased extension of the Concession Scheme to green minibuses, involving an additional expenditure of $176 million per year.  In addition, Government will continue to enhance the CSSA scheme and increase the annual recurrent funding for non-governmental organisations under the Lump Sum Grant Subvention System, involving an additional expenditure of about $126 million and about $470 million per year respectively.  Government has also earmarked $3 billion for the proposed introduction of the Low-income Working Family Allowance.
155. I forecast that capital expenditure for 2014-15 will be $86.2 billion, including $70.8 billion on capital works.  In recent years, capital works expenditure has been maintained at high levels, reflecting Government's vigorous investment in infrastructure.
156. Owing to the reduction in operating expenditure, total government expenditure is estimated to be $411.2 billion in the next financial year, 5.7 per cent less than that of last year.  Public expenditure will be equivalent to 19.8 per cent of GDP.
157. Having rolled out a number of new policy initiatives in recent years, Government has been counting on the professional and effective civil service to implement them.  On the one hand, we shall seek to enhance efficiency through internal redeployment and streamlining.  On the other hand, we shall also strengthen the establishment and set service priorities based on actual needs.  The civil service establishment is expected to expand by 2 556 posts to 173 961 in 2014-15.  This represents a year-on-year increase of 1.5 per cent, 50 per cent up from that of the previous year and the highest since 2007-08.
158. Total government revenue for 2014-15 is estimated to be $430.1 billion.  Earnings and profits tax, estimated at $177.5 billion, remain the major sources of revenue.  Land revenue is estimated to be $70 billion.
159. Taking all these into account, I forecast a surplus of $9.1 billion in the Consolidated Account in the coming year.  Fiscal reserves are estimated to be $755 billion by the end of March 2015, representing about 34 per cent of GDP and equivalent to 22 months of government expenditure.